'People need to open their minds more and put themselves in the position of a homeless person.' [The Whitechapel Centre]. That's exactly what a team of 300 volunteers will be doing on Friday 13th October 2017 as we give up the warmth and comfort of our homes to sleep-out on the streets of Liverpool, all to raise awareness, and funds, for the city's homeless charity, The Whitechapel Centre.
I'll be joined by two members of our charity committee – Annie Slade and Laura O'Farrell – to participate in the event, which is taking place outdoors and fully exposed to the elements.
Of course we appreciate that this experience, whilst a challenge, will be anything but authentic, we'll have great support and a team atmosphere – and all safe in the knowledge that we'll be able to head back home for a hot shower and warm food. A far cry from the reality for those who sadly find themselves homeless.
So why are we sleeping out?
Homelessness is a huge problem in Liverpool. This event is aimed to raise funds and awareness for the fantastic work of the Whitechapel Centre, who last year helped 1,321 homeless people into new accommodation; ending homelessness for them. All funds raised will go directly to the centre, which is our Charity of the Year 2017.
The Whitechapel runs an Enablement Centre which our team visited earlier this year. We saw first- hand the profound impact that this centre has for homeless people, offering them a hot meal, shower and clothes washing facilities. The statistics speak for themselves: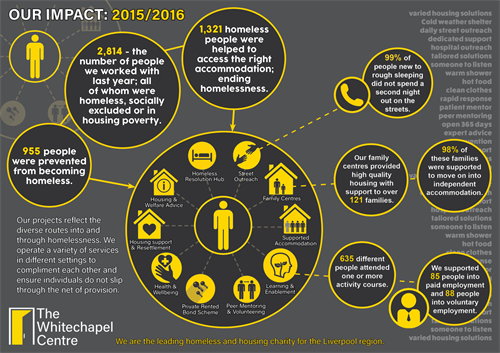 Beyond the amenities offered, the charity has a bank of supporters to help people on their route out of homelessness. This can include housing and welfare rights advice, education, training, employment advice, volunteering opportunities and medical services.
During the winter The Whitechapel Centre also operates the Cold Weather Provision for rough sleepers, opening when the temperature is predicted at 2°C or less. It offers a warm and safe place to stay overnight; hot food, drinks and a change of clothing.
There is no other support of this type for homeless people across Liverpool. The centre relies on the donations of the community (which can be food, clothes and volunteer time as well as money).
Please see below their website for details on success stories and how to help the Charity, along with our Sleepover Team Fundraising page:-
• www.whitechapelcentre.co.uk
• https://www.justgiving.com/fundraising/kirwanssleepoverteam